When Diana Kutlow joined the University of San Diego's first cohort in the Peace and Justice Studies program, she had no idea it would lead to a position with Hands of Peace, which empowers American, Israel and Palestinian youth as agents of change. After all, who would imagine that peacebuilding work around the Israeli/Palestinian conflict would even exist in San Diego, California?
But Kutlow has always followed her passion, from television sports and Olympics coverage at ABC and CBS Sports in New York to public relations for a fitness association educating instructors and club owners around the globe, to over a decade as Senior Director at the Joan B. Kroc Institute for Peace and Justice organizing the Joan B. Kroc Distinguished Lecture Series. In that role, she brought to campus peacebuilders and human rights activists such as His Holiness the 14 the Dalai Lama, Nobel Laureate Shirin Ebadi of Iran, Senator George Mitchell, and Jane Goodall, who explored how conflict prevention and resolution can help protect the environment."I've had three careers," says Kutlow, "journalism, raising two amazing kids, and peacebuilding work. Each one has been fulfilling in its own way and was a match for my interests at the time."
The move to peacebuilding came when Kutlow read a small notice about the new Master's in Peace and Justice (MAPJ) degree at the University of San Diego. She had been a stay-at-home mom for eight years, volunteering at the Cardiff Library and in her children's schools, and was ready for her next chapter.
"I had been considering law school," she remembers, "but as soon as I saw that notice I knew where I was supposed to be. At the time, there weren't any programs quite like the MAPJ anywhere in the country, let alone the San Diego area where I had put down deep roots."
Almost 20 years later, Kutlow has been recognized by San Diego Magazine as a Nonprofit Visionary in their Women Who Inspire Us November 2021 issue. Even though San Diego is known as a "military town," she sees it growing into a "peace town," with the School for Global Policy and Strategy at UCSD, the International Security and Conflict Resolution program at SDSU, and the Kroc School at USD leading the way. Nonprofits like the San Diego Diplomacy Council, National Conflict Resolution Center, and Hands of Peace are collaborating to leverage impact.
At Hands of Peace, that impact comes through more than 700 Palestinian, Israeli and American alumni who contribute to their communities using the tools and connections they gained through Hands of Peace. Kutlow manages the development team — raising funds; recruiting volunteers to host youth, donate meals, and organize events; and overseeing communications and office administration. Kutlow knows that the three-week Summer Programs in Chicago and San Diego and alumni programs in the U.S. and Middle East couldn't happen without these important support roles. And she is grateful to the thousands of donors and volunteers all over the country who step up to provide these youth their first chance to sit down with people they may have considered "the enemy" to build bridges of understanding.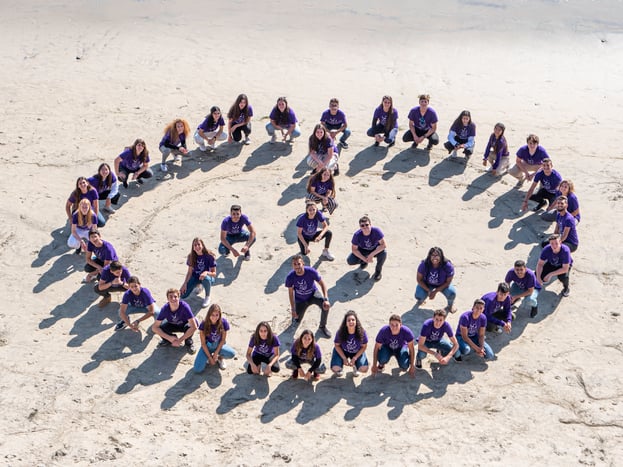 Hands of Peace San Diego Patricipants 2019
"We depend on globally-minded companies and individuals and small family foundations who know that peace is possible in every conflict, even this one," says Kutlow. As Senator Mitchell said in his talk at the Kroc School, "…in the Middle East there were and are, even in the darkest of times, vibrant local organizations who work cross-border on a wide range of matters. Supporting them is extremely important."
That support meant even more during the COVID pandemic when it became impossible to bring Israeli and Palestinian alumni across the Green Line for in-person dialogue or to bring American youth and adults on Multi-Narrative Tours of Israel and Palestine to give them a better understanding of the multi-faceted conflict and the diverse perspectives on both sides of the border.
"We immediately began researching how to best continue our work online," says Kutlow, "and managed to offer effective workshops on resilience, social entrepreneurship, and negotiations training for our alumni.
We also offer monthly Community Circles for the general public to learn more about dialogue processes,
conflict resolution, and social justice issues in the Middle East and in the U.S. In some ways, the pandemic enabled us to reach even more people online and to connect groups that are separated by geography, religion, race, and socio-economic status."
One of her favorite Hands of Peace programs offers facilitation training to San Diego teens and provides scholarships to continue their learning through the Summer Program. Sponsored by The Peacemakers Fund at The San Diego Foundation, this Raising Youth Voices program helps San Diego teens gain confidence and leadership skills to address local issues that affect them and their families.
"Young people are our future," Kutlow says, "and whether they live in Ramallah, Jerusalem, City Heights or Chicago, they deserve to be heard and given a place at the table to shape the world they want to see."
Are you interested in making your pivot to peacebuilding? Check out our academic programs to learn more.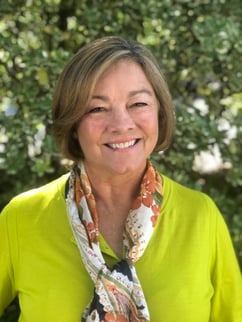 Diana Kutlow '03 (MA)