JOIN US ON OUR NEXT ALUMNI PROGRAM TO ISRAEL /PALESTINE
March 23-April 1, 2018 led by Julia Duerst, Chicago Program Director
March 30-April 8, 2018 led by Sarah Heirendt, San Diego Site Director
**NOTE: Please keep in mind Passover is March 30-April 7. Easter is April 1.
All Hands of Peace alumni from 2014-2017 summer programs are eligible to participate.
Our U.S. alumni leave the summer program feeling tied to the struggle for justice and peace in Israel/Palestine as their lives became intertwined with their peers. Supporting programs for our U.S. alumni to experience Israel/Palestine has long been a part of HOP's Strategic Plan. The program will include cultural touring, with a heavy emphasis on multi-narrative exposure. Both trips will be accompanied by a Hands of Peace staff member, guided by HOP Director of Facilitation Husam Jubran and a Jewish Israeli MEJDI guide, and coordinated with HOP Regional Managers each day.
Last year's program included time in Jerusalem, Bethlehem, Hebron, Nablus, Haifa, Nazareth, Umm al Fahm, and Tel Aviv. Students were hosted by Jewish Israeli host families for two nights in the Jerusalem area, West Bank Palestinian host families for two nights in the Nablus area, and Palestinian Citizen of Israel host families for two nights in the Haifa area. All hosts are HOP families. The first and last nights of the program the group stayed in the Abraham hostels of Jerusalem and Tel Aviv, respectively. A copy of last year's itinerary is available by clicking here.
There are three cost components to this trip:
1) Airfare, which you will purchase online during October/November. Estimated cost is $1,100.
2) Trip Cancellation/Travel Medical Insurance, which you will purchase online, estimated at $200.
3) Program Fee, which covers the cost of buses, guides, meals, entrance fees, and chaperones.
The program price will vary dependent on how many participants we have, and is priced at our cost with no markup or margin. Each trip requires a minimum of 8 paid participants to operate. Program fees are as follows:
14+ participants: $1,400
12-13 participants: $1,550
10-11 participants: $1,800
8-9 participants: $2,200
This fee covers all food, lodging, private bus travel within Israel/Palestine, compensation for our professional guides and chaperones as well as logistical support from MEJDI Tours.
There are a multitude of travel grants available for High School students. Here are some links to articles outlining these opportunities:
High School Travel Grants
11 Study Abroad Scholarships
Go Abroad
Grants for Educational Travel
There are also many similar grants available to college students – please contact Julia Duerst for leads.
Additional information:
– All Hands and XLs between 2014 and 2017 are eligible to participate. Yes, even if you participated last year, even if you are currently in college.
– The Chicago-led program dates were chosen to coincide with most Chicago-area high schools' spring breaks, likewise for the San Diego-led program dates, but you are eligible to choose whichever dates work best for you. EX: If you participated in Chicago, but your spring break matches the San Diego-led dates, you can participate in that program.
– We understand that some families may have questions about safety of travel, and we are happy to address those questions. The safety of our participants is our number one priority. Please consider these perspectives: 1) HOP alumni have travelled independently to Israel and the West Bank – in some occasions while still in high school. Julia spent August 2016 in Israel and the West Bank. Sarah lived in Nablus before. Our adult multi narrative trips regularly visit the West Bank. And we have local Regional Managers, Chaperones, and Facilitators who live year-round in Israel and the West Bank. 2) Prior to joining Hands of Peace, Rick worked in international educational travel for 17 years, sending more than 50,000 students on immersions around the world. In that capacity, he served as International Risk Manager and supported at least 30 trips to Israel proper, some of which visited the West Bank. Please reach out to Rick Rosenfeld, Executive Director or Julia Duerst if you would like to discuss in more detail.
If you are interested, please email Julia Duerst, Chicago Program Director or Sarah Heirendt, San Diego Site Director stating your initial interest and preferred program dates. Follow-up information with concrete next steps (flights, deposit information) will come shortly.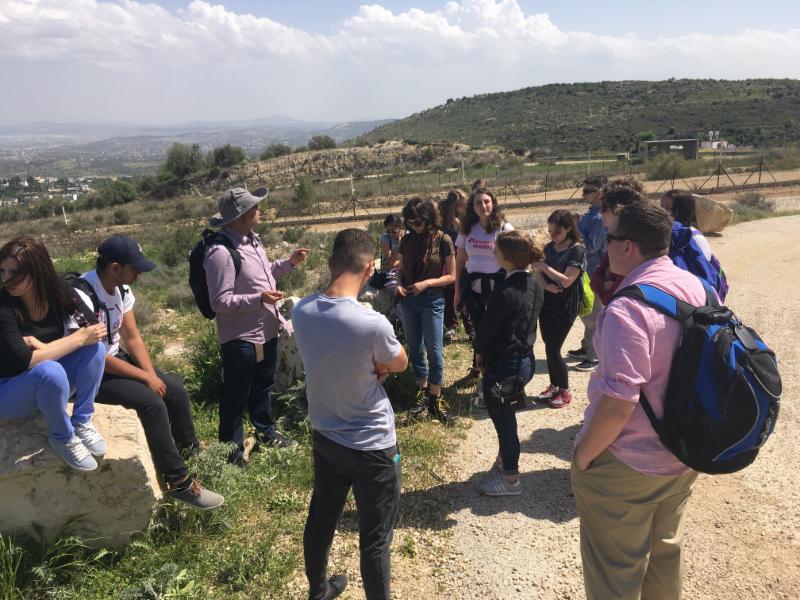 Husam and Yuval were incredible tour guides! I loved how they were able to connect with each of us and shared their personal stories with us. I felt that I learned so much from both of them during the trip. Sarah and Julia were both amazing, and I am so grateful that they were my chaperones. I always felt comfortable speaking with them and sharing my feelings. I loved staying with all of my host families! At each home I stayed in, I was with one of my close friends from my first participant year at Hands of Peace. This trip was truly a life changing experience for me. I think it helped me grow not only as an individual but also as a knowledgeable global citizen. I can't wait to share all of my experiences with the future hands as an XL at HOP this summer!
— Sara Kenward, 2017 Trip Participant and 2016 Hand